Easter Brunch for a Crowd
Our family is growing, and this year our gathering will be the largest ever.  My plan is to lay out crackers and cheese and a fruit plate for people to nibble as they arrive from the freeway, and start baking the main dish when we head out to the garden for the Easter Egg Hunt.  Once back inside, there will be lots of candy and hard boiled eggs for the children to eat while they work on their crafts, and I can put out the salad, Egg Bread, roast chicken, and the French Toast Casserole, which is new this year.
I'll ask one of the guests to help me serve the mimosas, then once everyone is settled I'll bring out the Matzo Toffee.  Yum!  I can't wait.
French Toast Casserole
I discovered this wonderful dish when I flew to Washington DC in February for my granddaughter's birthday.  Her parents and I drove five hours to her grandparents in New Jersey, and within minutes of our arrival we were pouring maple syrup over chunks of delicious hot egg-soaked bread.  I've modified the recipe somewhat so that it is gluten free and relatively low in sugar, but I expect it to be a centerpiece of our brunch this year.
Ingredients
1 loaf gluten-free bread or brioche
1 stick butter
1/2 cup brown sugar
1 teaspoon cinnamon
6 eggs
1 1/2 cups milk or 1/2 and 1/2
1 teaspoon vanilla
Directions
Melt butter in a medium sized saucepan.
Stir in brown sugar and cinnamon, then pour mixture into a 9 x 13 pan
Layer bread on top of melted mixture
Whisk eggs, milk and vanilla together and pour over bread; refrigerate overnight.
Bring to room temperature then bake at 350 degrees for 40 minutes
Cut into serving sized pieces and serve while still hot, with more butter and maple syrup.
No-Fail Mimosas
This recipe seems to be universal, so I don't know who to give credit to.  We served this tangy, sparkly drink at our first Easter brunch and now everyone expects them.  You can use different tropical fruit juices, but this is the basic recipe.
Fill champagne flutes or wine glasses 1/2 full with chilled sparkling (dry) wine. Top with orange juice.  Just before serving, add 1 tablespoon of Grand Marnier or triple sec to each glass.  For each 750 ml bottle of sparkling wine, you will need 3 cups of orange juice (fresh is best) and 1/2 cup of liqueur.

For best results, start with well-chilled wine and juice, and keep the bottles in the refrigerator after pouring until you need them again.
New this year is our Matzo Toffee dessert.  Variations of this recipe are all over Facebook, and my Jewish friends tell me that matzo toffee is pretty much a staple of the modern Passover.  This particular recipe, which I modified from one in the New York Times, would need some modification to suit a kosher home, but it's delicious just the way it is.
Matzo Toffee with Candied Fruit
Ingredients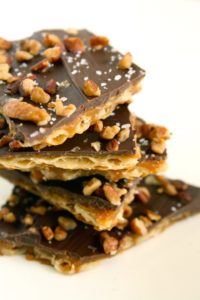 4 to 6 sheets matzo, preferably salted (I'm using gluten free matzo this year)
1 cup (2 sticks) unsalted butter or margarine
1 cup packed light brown sugar
2 teaspoons ginger juice (optional)
Large pinch course kosher salt
6 ounces chopped dark chocolate chips (1 cup)
3 ounces chopped candied ginger or mango (3/4 cup)
chopped nuts (optional)
Preparation
Heat oven to 350 degrees. Line a rimmed baking sheet with aluminum foil, allowing it to go over the edges of the pan. Cover the bottom of the pan with parchment. Arrange matzo over parchment in one layer, breaking pieces to fit as necessary.
In a medium pan over medium-high heat, bring butter and sugar to a boil for 3 minutes, until thickened and smooth. Stir in ginger juice, if using it, and salt. Quickly pour mixture over matzos. Transfer pan to oven and bake 15 minutes until bubbly.
Remove pan from oven. Sprinkle chocolate evenly over caramel. Let stand 5 minutes until chocolate is softened. Use a spatula to spread chocolate smoothly over surface of toffee. Immediately sprinkle with chopped candied ginger or mango.  Add chopped nuts if you wish. Place pan in refrigerator and chill toffee for 1 hour. Break into large pieces.
(Thanks to Melissa Clark in A Good Appetite, April 4, 2014.)
I hope you'll try some of these recipes — if you do, let me know how they turn out!  Marlene
Save
Save
Save
Save
Save
Save
Save
Save
Save
Save
Save
Save
Save
Save
Save
Save