The Journey
In a recent post I wrote about grandparents who are challenged by the many miles between them and their grandchildren.  Today I read an article in the New York Times about grandparents who have moved to live closer to their grandchildren.  It was very interesting, and also very timely.
I did that.  Moved to live closer to my grandchild. Even before I retired from teaching, I sold the house where I had lived for over 20 years and moved over the Santa Cruz Mountains to live near my new baby granddaughter, the little girl known in these pages as Bean. I did it because I wanted to get to know her, and to have her know me, and because my oldest daughter's future was uncertain and we both thought she could use a little help.
Now, it turns out, four and a half years later, she does need my help. Mother's Day this year brought us closer, but for an unexpected, and uninvited, reason.  That was the weekend she received a diagnosis of breast cancer.  Neither of us could have known this time was coming, but, as it happens, it did.  I have come to think of this as a journey she is taking, and Bean and I are traveling beside her.
Choosing the Route
We don't get to choose the challenges in our lives, but we do get to decide how to face them.  My daughter is facing this one head on, like she does everything else, and her courage and confidence are helping me to put one foot ahead of the other each day and continue to provide a normal grandma-granddaughter experience for Bean.  My daughter has a wonderful partner who is also right beside her on this journey, but he has to earn a living.   I would have flown here from anywhere, but I'm grateful that I already live nearby, and that Bean already feels safe in my home, in her little room, in her cosy bed.
We know from the study of child development that three conditions must be present for "optimal" caregiver-child attachment to occur, whether the caregiver is the parent, a friend, or a grandparent:  continuity, stability, and mutuality.  Continuity involves the caregiver's constancy and repetition of the adult-child interactions. Stability requires a safe environment where the caregiver and child can engage in the bonding process. Mutuality refers to the interactions between the adult and child that reinforce their importance to each other.  Developing those three conditions takes time, and can't easily be built after the need occurs.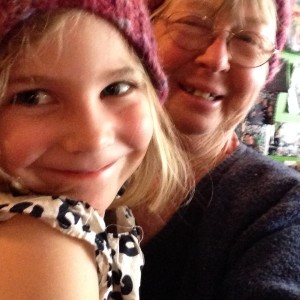 Attachment and Separation
When a separation from the primary caregiver, usually a parent, must occur, the child is able to cope with the situation better if a familiar secondary caregiver is available to stay with him or her, and if that caregiver can provide those three conditions.
In the case of cancer treatments the separations may be short, but unfortunately they must occur often as the patient copes with the negative effects of chemotherapy, surgery, and radiation.  Bean is facing Mommy going to the hospital regularly for surgery, for treatments, for hydration therapy.  Even when Mommy is home, she is sometimes too tired to play, sometimes asleep on the couch. Having a backup granny down the street should, if the research is correct, help Bean adapt to these separations with less stress and sadness.
It's Deja Vu All Over Again
Many years ago, when my daughter was an eight-month old baby, her father and I moved 3000 miles across the country so that we could be closer to our families.  Shortly after returning to California I discovered that in my three year absence, the legislation governing teaching credentials had changed, and if I was to earn an elementary credential with the BA I had worked so hard to achieve before leaving the state, I would have to return to university immediately and complete my fifth year of education theory and practice. To do so, I would need regular child care.
Thus, I began a punishing schedule that involved rising at 5:00 a.m. three days a week, driving an hour and a half down the mountain from Lick Observatory, where we lived with my husband's parents, to my mother's home.  After kissing my sleepy girl goodbye I drove another half hour to the university where I attended classes, then reversed the whole journey at the end of the day.  Eventually there was student teaching, which I did during one semester while my mother took care of Doña, and another semester at the observatory where my mother-in-law taught in the one-room school house.  The result was that my daughter knew both her grandmothers very well, had loving relationships with both of them, and ample helpings of continuity, stability and mutuality, by the time I graduated that June.
We could not have predicted how important that would be. On June 25 I was badly injured by a runaway car on a rural hillside.  During the following months, Doña lived with my parents while her daddy worked and visited me at the hospital an hour away.  On weekends Daddy took her home to his parents.  I won't pretend that she had no ill effects from our separation, which she certainly didn't understand and hadn't asked for, but I am confident that she was less traumatized than she would have been if she had been cared for by strangers.
So what am I saying? That everyone should move to live near their grandchildren or grandparents just in case there is a life event that requires some serious child care?  No, of course not. Just that we never know what is ahead of us, and maintaining relationships within and among our various family members can make difficult situations more manageable.  People lose their jobs, their houses, their health.  Stuff happens.  It can be a whole lot easier if the people who love us are nearby.
There was a time when I couldn't wait to get far away from my family, and I suspect I'm not alone there.  But for everything there is a season, and the season when we are raising our children and caring for our elderly parents, two roles that most of us will eventually take on, is a whole lot easier when family members are nearby to help. It's worth the trouble, trust me.