Flying to Australia
Most people I've spoken to about flying to Australia say something like "OMG it must be a 20 hour flight! How did you stand it?"  Or even more specifically "No way could I sit on an airplane for all those hours.  I'd go crazy!"
I'm no fan of long airplane flights, but they are a necessary evil if you are going to travel outside the Western Hemisphere.  I tried to be as pro-active as possible, downloading several books to my iPhone, packing noise-reduction headphones and some work to do on the plane, and wearing comfortable clothes.  As it happened, I didn't listen to any books or music, and I brought most of the work home with me a month later.  My first flight, from SFO to Sydney, was 14 and 1/2 hours. Then Customs and Immigration and another flight of 5 and 1/2 hours to Perth. Remarkably, I landed well rested and well fed.
Qantas Airlines knows how to transport people to Australia from San Francisco.  They should.  They've been doing it since 1959.  The flight was scheduled to leave at 8:30 p.m and it left on time. Shortly after we took off, we were handed our customs/immigration card to fill out and as soon as we leveled off we were given a menu, followed by a beverage service that included soft drinks, wine, and spirits.  Our meals followed promptly, and they did not disappoint.  For airline food, I would grade my meal an A.  (The menu is in last week's blogpost). By the time our trays were collected I had figured out the media system and was watching an Australian comedy.  Before I completed the film, the cabin lights were turned off and the temperature reduced.
Curled up against the window with a decent sized cotton-covered pillow and a blanket that actually covered my whole body, I was asleep before the credits ran. The next "morning," signaled by an increase in temperature and the cabin lights coming on, we were fed a hearty breakfast and encouraged to walk about to prepare ourselves for landing. I peeked out the window during breakfast; it was still dark, but by the time we landed it was light.
I'm not kidding — it was fine.  I ate well, slept well, and enjoyed the movie.  We sleepily walked off the plane, up a bunch of stairs, retrieved our baggage from the carousel, and were gently herded through Immigration and Customs.  The Qantas staff members who guided us through the process and the customs officers were polite and even cracked a few jokes.  It was not a bad experience.  I made it to the Domestic terminal and my gate in plenty of time for the flight to Perth and once on the plane immediately fell asleep again.  Must have been all that wine.
Perth
Why Perth?  A fair question.  Perth is on the west coast of Australia, and I'd never been there before.  Six years earlier my daughter had flown to Perth with her partner and my granddaughter, who was just a baby, to embark on a Jeep adventure into the Outback. They stayed for several days with a woman she had met on a retreat in Thailand.  My original plan had been to take a train, The Ghan, from Darwin to Adelaide, but the dates of my journey, dictated by the wedding of a relative I wanted to attend in Melbourne, were too late in the summer (high temperatures) for that train to run.  My second choice was the Indian Pacific, from Perth to Adelaide.  Doña gave me contact information for two friends she had met in Perth and they offered to help orient me upon my arrival.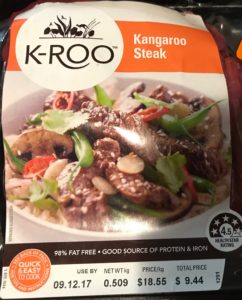 It turned out they did far more than that.  Mark greeted me warmly as I emerged from Customs and Immigration.  He was holding a card with my name on it and I smiled as soon as I saw it, which is how he recognized me..  He drove me to their home in the countryside outside Perth and invited me to sleep, but I was too excited, so we raided the refrigerator for lunch instead, and ate and drank and talked for an hour. Having just purchased a new one, Mark offered to loan me his older smart phone, so we decided to drive into town for a sim card.  My first journey to a shopping center and large outdoor parking lot felt like a field trip; I was like a kid in a candy store, staring at koala graffiti and unfamiliar products in the store windows. I was amazed to learn that for $40 Au I could purchase unlimited talking, text, and data for 30 days.  That loan turned out to be priceless when I was away from wireless coverage, or wanted to make travel, hotel, or arrangements with friends throughout the remainder of my trip.
Back at the house, we fiddled with the phone settings and getting my selfie stick remote to work until Mark's wife Deb arrived home.  They prepared "Roo on the Barbie" for dinner — kangaroo meat barbecued with skewered vegetables, followed by the best Pavlova I had the whole time I was in Australia (more about the significance of that later).  Kangaroo tastes like venison (deer meat), a bit gamey and not at all fatty.  I think there was also some Australian cider and wine involved, and I faded away pretty quickly after dinner.
Birds in the Morning; Echidnas in the Afternoon
I awakened to birdsong at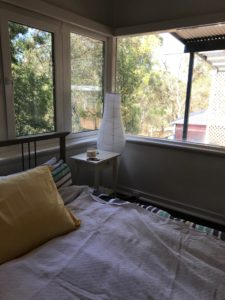 6:00 a.m.  (As it happened, I awakened to birdsong at 6:00 a.m. almost every morning for the remainder of my trip.)  Mark had shown me how to operate his Cadillac coffee maker, so I brewed a cup and took it  and my iPad out to the veranda until my hosts appeared.  That became my habit for most of my journey: up at 6:00, coffee and email, then an hour reading student papers.  That first morning, I did very little work. It was too wonderful just sipping my coffee and listening to the birds talking to one another.  I didn't recognize the trees, but they smelled medicine-like — eucalyptus.
It was Friday and Deb had to work, so after breakfast Mark drove us to the Caversham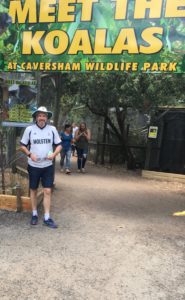 Wildlife Park.  I had indicated in an email that I wanted to get up close and personal with a koala, and I was also hoping to purchase some stuffed koalas for my granddaughters.  Mark and Deb had decided I could do both there.  Caversham was wonderful — by the end of the day I had seen just about every animal that could be found in Australia, including Echidnas, Wombats, Koalas, Kangaroos, Wallabies, Spotted Tail Qualls, Bandicoots, Bilbies, several kinds of Possum, Gliders, Quokkas and a large variety of birds, some of whom awakened me early in the morning for the next four weeks.  I spent a lot of money in the gift shop buying Christmas presents for my granddaughters.  Mark got his snake fix in the reptile house.
It was at Deb and Mark's that I first encountered a Thermomix, a stainless steel appliance that, according to Jenni Avins in this article, replaces a high-speed blender, slow-cooker, mixer, food processor, digital scale, sous-vide machine, steamer, and smart phone.  I can't vouch for that, but I can say that the delicious mushroom risotto that Deb prepared in her Thermomix took nearly no time and, in her words "wouldn't have been on the table if I didn't have one".  I was to discover that this appliance is more than popular in Australia — it's ubiquitous.
The next day was Saturday and Deb joined us for a drive to Fremantle Prison, which was opened in 1850 and only closed as an operating jail (gaol in Australian) in 1991.  Nearly 10,000 male convicts eventually arrived from England as a labor force to help build the Swan River Colony.  Their first project was to build their own home, the prison. We were led around the premises by a knowledgeable and humorous guide who made the history of the place come alive for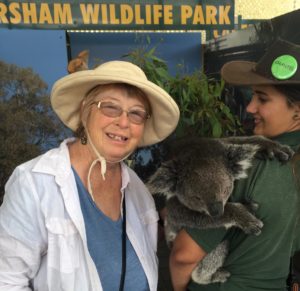 us. I very much enjoyed our visit. Before heading back to the car, we followed the signs to the Fremantle Prison YHA and explored the youth hostel that has been built in the Women's Quarters of the prison.  The rooms are very cozy and a good use of the otherwise empty facilities.  After the prison we went to the Fremantle Markets which I later read is "one of the best destinations in Fremantle for locals and tourists alike, as well as a leading source of independent wares and produce." There was a wide variety of local foods and crafts in the market, as well as colorful fabrics and clothing, wines, and beer. I took lots of pictures and found more souvenirs to buy.
Freo, ACDC, CBD and WA
Australians like to abbreviate words (Roo for kangaroo, for example, and Barbie for barbecue).  Fremantle, I discovered that day, is called Freo by the locals. At first I thought it was just a Deb and Mark pet name, but as we headed for lunch in the Little Creatures pub, I saw a sign advertising the Freo Deli. After a delicious lunch of seafood tapas, we walked around the seafront, and I took a photo of a statue of Don Scott, the Lead of ACDC until 1980, for my son, who enjoyed their music when he was younger. Who would have guessed the lead of ACDC came from Fremantle, West Australia?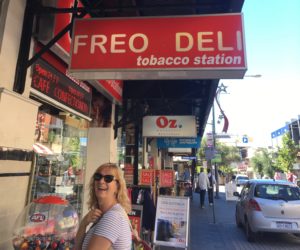 Saturday we visited Perth itself. Both Deb and Mark had wanted to visit the Bell Tower, and they used my visit as an excuse to do so, joined by my daughter's friend Jo.  What appeared to be simply a good-looking glass tower on the seafront of Perth turned out to be an historic gem.  In the mid-1980s the historic bells in the Church of St. Martin-in-the-Fields in Trafalgar Square, London were in poor condition and causing structural problems in the church tower. Consequently, they were scheduled to be melted down and re-cast. When Perth Swan Bells Foundation patron Laith Reynolds heard of this, he and others started negotiations with the relevant church and civil authorities in London. They eventually received approval  for a plan for the old bells to be saved, retuned, and sent to Perth.  In return, thirteen new bells were cast with virgin Australian copper and tin for the Church of St. Martin-in-the-Fields, London.  A pretty remarkable agreement.  We went up to the observation deck at the top of the Bell Tower and found awesome 360-degree views of the Swan River and Perth Central Business District (CBD).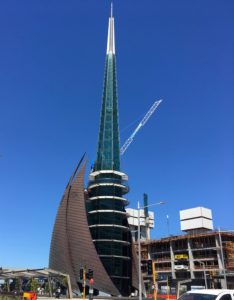 Jo ate lunch with us, then left for a family event and we wandered around the seafront, sitting for a while to watch children play in fountains that were synchronized with music and lights.  We walked around Kings Park, where I saw a wonderful Boab Tree, 750 years old, that was transplanted into the park in 2008. Later we enjoyed a glass of wine at the art-deco Indiana Teahouse at Cottlesoe Beach, the most popular and well-known beach in Perth.  Like all Perth beaches, "Cott" has clean white sand and beautiful clear turquoise water (which you can see behind me in the photo below). It also has it grassed t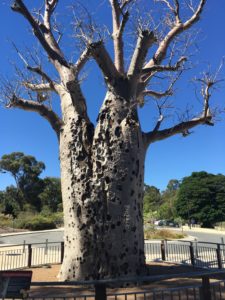 erraces and a park behind the beach shaded by Norfolk Island pine trees.  At Cottlesoe Beach it was pointed out to me that we were looking at the Indian Ocean. I hadn't figured that out yet, but it might explain the name of the restaurant. We ended our day at Hillarys Boat Harbor.   The harbor was named after a pioneer resident, Bertram John Hillary, who built a boat shed there in the 1930s. The waterfront area, a man-made marina, has grown to become a major tourist destination.  I ate my first fried crab tacos at Hillarys.  They were amazing.
Back at Deb and Mark's home, we watched broadcast news that evening, and I learned that Western Australia is generally known as W.A. by newscasters and meteorologists and just about everybody else. One more quirky Australian abbreviation to add to my list..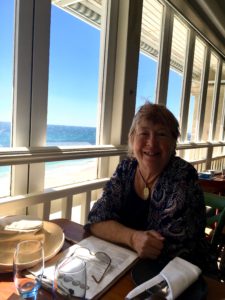 The Indian Pacific Railway
On Sunday morning we ate our last breakfast together, and Mark and Deb took me to the railway station.  When we arrived, there was a party going on.  I checked in on the platform beside the train, and was invited to help myself to tea, coffee, juice and sweet pastries.  A troubador was playing the guitar and singing. Mark and Deb went aboard with me to see my sleeping compartment, and we stood around awkwardly, not sure what to say.  Suddenly the train whistle blew and all visitors began to leave; we hugged and I for a moment I was sad.  I felt like I was saying goodbye to to two old friends.
In minutes, my train pulled out of the station.  Mark and Deb waved at the window next to mine, and I waved back at them, but they couldn't see me through the tinted glass.  Soon they were out of sight.  My time in Perth was over, and my cross country rail adventure had begun!  Stay tuned for the next chapter of my journey across Australia..