Victoria
The Greenhouse Backpacker's Hostel is in a high rise building in the center of Melbourne. My first challenge, tired as I was, was hoisting my roller bag up ten steps to the elevator.  A sign on the door told me that Reception was on the 6th floor. When I reached it the elevator door opened to the welcoming fragrance of lots of dinners cooking, and I felt my weariness sliding away.  Soon I was showered, fed, and warm in my very comfortable bunk.
This hostel wasn't small and cozy like the one in Adelaide.  Recommended by my Lonely Planet guide, it was large and efficient, reasonably priced — just what I needed. My only disappointment:  I had planned to take advantage of their advertised breakfast, but it turned out to be white bread, strawberry jam, peanut butter and instant coffee. I pulled out my muesli, nuts and dried fruit, and ate that instead.
I then sorted my two bags, stored them in the Left Luggage room, and took off on foot to find a coffee shop. Darren had told us Melbourne had the best coffee in Australia, so I was anxious to try it.  I carried a box with me to send home, and eventually found a post office, but on the way I found a chocolatier, several beautiful churches, and woo hoo, Degraves Espresso.  I was not disappointed.  Energized by the excellent brew, I then followed the City Walk map in my travel guide, and over the next few hours enjoyed street art, lovely old architecture, and excellent food.
Late that night I traveled by train to attend the wedding of my cousin's son.  I stayed two nights in a nearby town and traveled to Gum Gully Farm, the rural venue for the wedding, by hired bus. The wedding was lovely.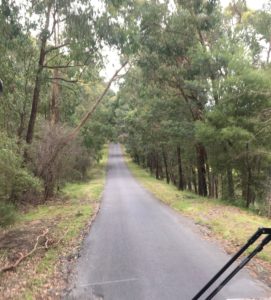 The bridegroom welcomed us informally before the ceremony and asked us to take a moment to acknowledge the Wurundjeri people as the traditional custodians of the land on which we were standing. This was a first for me, but I was to hear such acknowledgments several more times before I left Australia. I didn't know anyone at the wedding except the bridegroom and his parents, so I enjoyed being a fly on the wall, eating delightful food and watching the young people dance and sing. It was a great party!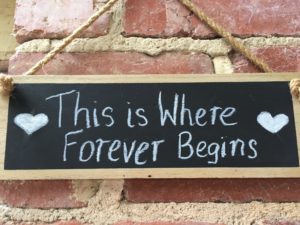 I was picked up the morning after the wedding by my long time friend, Vera. We originally met in 1962 on the S.S. Orion when our respective families were traveling back to the U.S. from Australia. We stayed friends and double dated in high school.  Sadly, we  lost touch with one another in the 70s when Vera returned to Oz, but I had tracked her down through mutual acquaintances.
Vera took me back into Melbourne ("the city") by train and I enjoyed it all over again through her eyes.  She drove me to the town in which I lived as a child, and I walked between our house and my elementary school, then marveled at how easily we could also walk to the beach. The next day we shared family photos and stories, walked around her Oakleigh neighborhood, and ate Greek food, which is plentiful there. I found it very difficult to leave Vera again after rekindling our friendship.  How I would love for us to live near one another, so we could meet for coffee and shopping trips.
Another train journey and then I was with Dorrie.  Our parents met on the ship that brought us to Australia in 1953. For over thirty years, Dorrie's Christmas greetings have been the first ones I received each year. She lives in a forested area near Millgrove and Warburton, Victoria, and we spent a wonderful day together walking and talking, catching up on a lifetime of memories.
She drove me to a nearby rain forest, and we walked the boardwalk that was suspended through it, many feet above the ground.  Later we sat sat on the banks of the Yarra talking and watched children diving into the water and "larking about. "
Dorrie also took me to a recently opened rail trail, very well subscribed and with much history behind it.  I have some friends attempting to build such a trail along an unused rail line in Santa Cruz, so I took lots of pictures.
Several years ago, Dorrie came to see me in California with her friend Yvonne, who we visited the first day I was in Millgrove.  Dennie and I took them to San Francisco, but living as I did then in Morgan Hill, I didn't have any wonderful botanical gardens or even garden centers to show them.  If they decide to come back now that I live in Santa Cruz, I would take them to the UCSC Arboretum and Farm & Garden and to the Monterey Bay Aquarium.
Millgrove has an old and a new RSL (Returned Servicemen's League).  I photographed the old one, along with the Gallipoli monument just outside, and we ate dinner at the new one.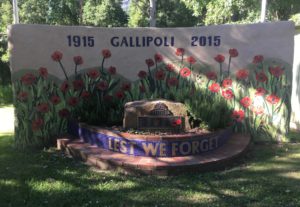 The RSL was very visible wherever I traveled in Australia, and the now adult children of the men and women for whom the RSL was originally intended seem to regularly eat there and participate in scheduled activities (a bingo game was going on while we were there).  Good way to keep the institution alive.
I covered a lot of miles in the next two weeks.  Not being brave enough to drive on the left hand side of the road, I had planned to travel by bus or train for the next leg, but my cousin offered to pick me up in Millgrove and drive me to his home 200 miles away. That meant he was driving 400 miles that day, and I was very grateful.  We hadn't seen one another for 20 years, and only for one day then, so we had lots of catching up to do.  While sitting in the car we covered many different topics; it was really good.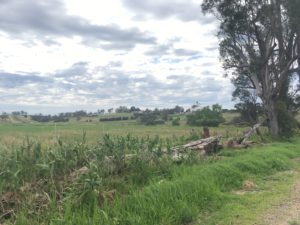 While we'd been driving, David's wife Marilyn had been cooking.  After enjoying her feast we settled down in comfortable chairs to watch the evening news.  I enjoy watching local news and commentary when I'm traveling, and had done so in the two nights so far I'd spent in a motel.  Over the next few weeks I was staying with friends or family, and so I became pretty familiar with the current batch of politicians people were upset with, the standings of the favored cricket and football teams, and the weather patterns throughout the whole country.
I have two cousins in Australia.  Their mothers were my dad's sisters.  All three families emigrated out of England after they discovered that housing and jobs were scarce when they returned home from World War II.  We moved to the U.S. at first, then to Australia,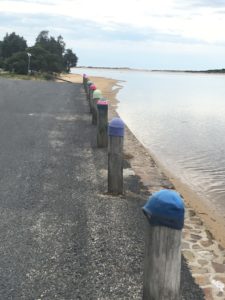 where we lived with David and his parents, and our grandparents who had followed their daughters to Oz a few years later. We continued to reminisce as the days passed, and the more we talked, the more we remembered.
When Marilyn got tired of our family stories, she disappeared into the kitchen, where she whipped up all kinds of wonderful treats. The weather was lovely, and I noticed that even though she has a modern clothes dryer she hung their clothes to dry. Mark and Deb had done that also in Perth, and I was soon to see my friends in Brisbane do so also.  The cost of electricity was given as the main reason, but I suspected it was the lovely smell of the clothes when they were collected..
Over the next few days, David and I roamed the local countryside together.  He is a great tour guide, and has lots of stories to tell at each river, lake, or stream. I saw wooded areas, miles and miles of farmland, billabongs (water holes) with pumps powered by windmills and solar power.
Marilyn and Dave also took me to two Christmas parties, one organized by their church, where their vicar was distributing gifts dressed in an elf costume, and another by their Croquet club. I spent a morning watching them play croquet, and afterwards we sat in their sun room, drinking wine, talking, and watching the antics of the magpies.  It was a wonderful visit.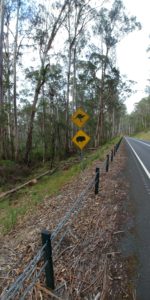 Queensland
The next leg of my journey was to Canberra, 227 miles away. Once again, David offered to drive.  Gratefully, I accepted, and stuffed some gas money into the console of his very Australian SUV.  That road trip was truly memorable, and I can't possibly do it justice here.  Another time, perhaps.
From Canberra I flew to Brisbane, where our mutual friend Peter Cooper lives. Peter's parents also emigrated from England, on the same ship as David's parents. Those friendships formed on ocean voyages (three weeks long in 1949) seem to be very strong; they were lifelong friends.  David and Peter and Peter's brother Richard played together as children; I met Peter and Dick when we were teenagers. After my parents and I returned to the U.S. for the second time, Peter (Coop)  joined the Navy which is where he met his wife.  Anita was a wonderful host and she made me feel quite welcome. I was in Queensland now, and the early morning birdsong was amazing.  I continued to rise at 6:00 am to greet the birds and the sun, drink my coffee in solitude, and communicate with my online students.
Coop and Anita showed me the Sunshine Coast (Bribie Island, Glass House Mountain, Mooloolaba Beach) and the Gold Coast.  We went to a Butterfly hatchery and a posh restaurant called The Boathouse. I met each of their daughters and a couple of grandchildren and a grand dog. We ate breakfast, lunch, and dinner together for several days and by the end of my visit I felt like we were old friends.  Australians are really easy to like. Not one of the people I visited on this trip was pretentious or smug.  Just great people, enjoying life and wanting to share their beautiful country.
Two more stops and my journey will be over.  Coop and Anita drove me to my cousin Eunice's house near Byron Bay via the Gold Coast, 117 miles from their home. We stopped for fish and chips at a favorite restaurant and made an attempt to see a local beach, but there was no parking.
New South Wales
I only spent one night with Eunice, as she was under the weather.  We met in Victoria, BC several years earlier, so didn't have quite so many years to catch up on, but our one evening together was precious.  Eunice had urged me to spend more time in Sydney than originally planned, so I flew from Ballina to Sydney the next day.  A woman-owned shuttle service picked me up and deposited me at the tiny Ballina airport, and soon I was flying over the famous Opera House and "coathanger" bridge in Sydney Harbor.
I stayed in a motel on the outskirts of the city, a short walk from the train. I purchased an Opal card, which worked on buses and ferries also, and each morning went into the CBD (I'm getting good at this — central business district, remember?) just after peak traffic when museums and the zoo and shops were starting to open. I ate breakfast each day at the Circular Quay because it was always busy. I enjoyed watching the hawkers and the visitors. My favorite eatery was City Extra, which served excellent food right on the quay, and colorful birds often joined me at my table.
Over the next three days I attended a ballet at the Opera House and went on the two-hour tour, took the Manly Ferry to Hugo's Restaurant and the Taronga ferry to the Zoo, visited the Australia Museum (described by my tour book as "a museum that should be in a museum") and totally soaked up the Museum of Sydney, where our guide taught us about the First Fleet (11 tall ships that sailed from England in 1788 with 1500 passengers) and the founding of the Botany Bay penal colony. I bought a book so I could read more of the details of that event at my leisure.
I'm writing this post on Australia Day , January 26. The Aussies are setting off fireworks and barbecuing in their back yards and sun porches. And somewhere, people are singing this song.   It's not the Australian national anthem, but it ought to be. I share it with you now because it helps to explain the ethos of Australia.  Unlike most of us today, Australians are proud of their country and they aren't afraid to say so.  And after spending a month there, I think I get it.  Press the arrow to hear The Seekers sing "I am Australian."
Well, I didn't make it to Possum Magic and my search for magic Australian food, so I guess there will have to be a seventh episode in this story.  Come back next week for that one. And if you want next week's post to appear magically in your email, please subscribe by filling in the form on the right.
Did you enjoy this episode?  I love to read your comments.  Just scroll down a bit and type them in the form provided for that purpose.  See you next week!  Marlene